By admin on Sep 04, 2009 with Comments 0
The architecture is called Core, processor family is Core 2, the product names are Core 2 Duo and Core 2 Extreme. In the past we've talked about its architecture and even previewed its performance, but today is the real deal. We've all been waiting for this day, the day Intel lifts the last remaining curtain on the chip that is designed to re-take the performance crown from AMD, to return Intel to its days of glory.
It sure looks innocent enough: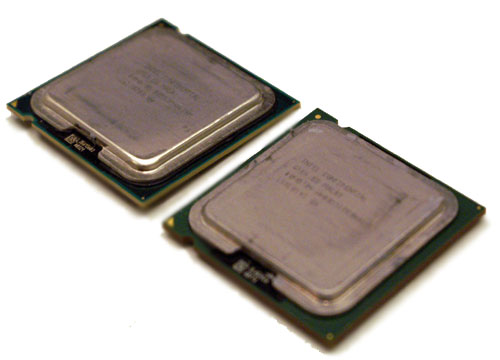 Core 2 Duo (left) vs. Pentium D (right)
What you see above appears to be no different than a Pentium D. Honestly, unless you flip it over there's no indication of what lies beneath that dull aluminum heat spreader.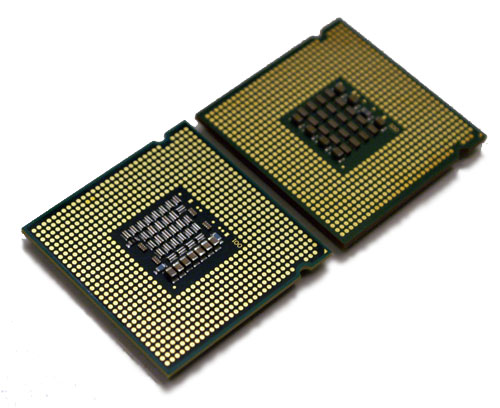 Core 2 Duo (left) vs. Pentium D (right)
But make no mistake, what you see before you is not the power hungry, poor performing, non-competitive garbage (sorry guys, it's the truth) that Intel has been shoving down our throats for the greater part of the past 5 years. No, you're instead looking at the most impressive piece of silicon the world has ever seen – and the fastest desktop processor we've ever tested. What you're looking at is Conroe and today is its birthday.
Intel's Core 2 launch lineup is fairly well rounded as you can see from the table below:
| | | |
| --- | --- | --- |
| CPU | Clock Speed | L2 Cache |
| Intel Core 2 Extreme X6800 | 2.93GHz | 4MB |
| Intel Core 2 Duo E6700 | 2.66GHz | 4MB |
| Intel Core 2 Duo E6600 | 2.40GHz | 4MB |
| Intel Core 2 Duo E6400 | 2.13GHz | 2MB |
| Intel Core 2 Duo E6300 | 1.86GHz | 2MB |
As the name implies, all Core 2 Duo CPUs are dual core as is the Core 2 Extreme. Hyper Threading is not supported on any Core 2 CPU currently on Intel's roadmaps, although a similar feature may eventually make its debut in later CPUs. All of the CPUs launching today also support Intel's Virtualization Technology (VT), run on a 1066MHz FSB and are built using 65nm transistors.
The table above features all of the Core 2 processors Intel will be releasing this year. In early next year Intel will also introduce the E4200, which will be a 1.60GHz part with only a 800MHz FSB, a 2MB cache and no VT support. The E4200 will remain a dual core part, as single core Core 2 processors won't debut until late next year. On the opposite end of the spectrum Intel will also introduce Kentsfield in Q1 next year, which will be a Core 2 Extreme branded quad core CPU from Intel.
Related Posts
Filed Under: Intel
About the Author:
Comments (0)